Overview
A bunion is enlargement of bone or tissue that develops at the joint that connects your big toe to your foot. The bones, muscles, ligaments and tendons of your feet normally are well-balanced to distribute your body's weight while standing, walking and running. When the joint, called the metatarsophalangeal joint, or MTP joint, experiences abnormal, prolonged stress in terms of weight distribution or squeezing of the toes within the shoe, the result can be the deformity called a bunion. Generally, a bunion develops when, as a response to prolonged stress, your big toe begins bending toward your foot's smaller toes and puts pressure on your MTP joint, forcing it to bulge outward (the term "bunion" comes from the Latin word for "enlargement"). There is no "standard" bunion, however, but rather a complex range of joint, bone and tendon abnormalities that can cause variation in each bunion's make-up.
Causes
While the precise cause is not known, there seem to be inherited (genetic) factors that lead to abnormal foot function like overpronation that can predispose to the development of bunions. This is especially common when bunions occur in younger individuals. This abnormal biomechanics can lead to instability of the metatarsal phalangeal joint and muscle imbalance resulting in the deformity. Although shoe gear doesn't directly cause a bunion, it can certainly make the bunion painful and swollen. Other less common causes of bunion deformities include trauma (sprains, fractures, and nerve injuries), neuromuscular disorders (polio or Charcot-Marie-Tooth disease) and limb-length discrepancies (one leg shorter than the other) where the longer leg develops the bunion.
Symptoms
The most common symptoms associated with this condition are pain on the side of the foot just behind the great toe. A red painful bump is usually present. Pain is usually brought on with walking or sports. Shoes don't cause bunions but will typically aggravate them. Stiff leather shoes or shoes with a tapered toe box are the prime offenders. This is why bunion pain is most common in women whose shoes have a pointed toe box. The bunion site will often be slightly swollen and red from the constant rubbing and irritation of a shoe. Occasionally, corns can develop between the 1st and 2nd toe from the pressure the toes rubbing against each other.
Diagnosis
When an x-ray of a bunion is taken, there is usually angulation between the first metatarsal bone and the bones of the big toe. There may also be angulation between the first and second metatarsal bones. These angular irregularities are the essence of most bunions. In general, surgery for bunions aims to correct such angular deformities.
Non Surgical Treatment
You can buy orthotics over the counter from pharmacies, or they can be custom-made by a podiatrist to fit your feet. Whether you need to buy an over-the-counter orthotic or have one specially made will depend on your individual circumstances and the severity of your bunion. You can also use special bunion splints, worn over the top of your foot and your big toe to help straighten its alignment. Splints are available for both daytime and night-time use. However, there's little evidence that splints are effective. Toe spacers are also available, which can help reduce the pain caused by bunions. However, toe spacers or orthotics may be of limited use because they often compete with the bunion for the already limited space in the shoe. If your toe joint is painful and swollen, applying an ice pack to the affected area several times a day can help to relieve the pain and inflammation. Never apply ice directly to your skin. Wrap it in a cloth or tea towel. A bag of frozen vegetables makes a good ice pack. It's recommended that you wear flat or low-heeled, wide-fitting shoes if you have a bunion. Shoes made from soft leather are ideal because they'll relieve any pressure on the bunion. Avoid narrow or slip-on shoes. High heels can also make your bunion worse by putting excessive pressure on your toes.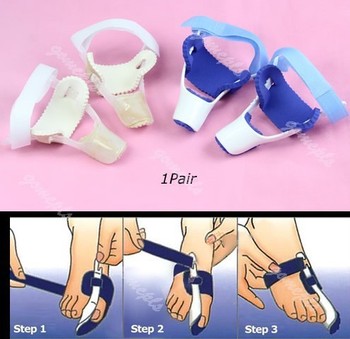 Surgical Treatment
The surgical treatment will vary depending on x-ray analysis and severity of the deformity. Most bunion surgeries focus on realigning the bony deformities of the bunion/big toe joint. At Accent on Feet we practice Ambulatory foot surgery for bunion correction. This method allows for faster healing, lower risk and preferred cosmetic result over traditional hospital surgery. All surgical procedures are performed in the office using local anesthesia (freezing). All patients walk immediately.